Reading Time:
2
minutes
Learn how to make a newborn baby gift that will last a lifetime
Rainbow fibre art decorations have been doing the rounds on Pinterest for a while and I LOVE them! It they gave me an awesome idea for a baby gift for one of my dearest and oldest friends who I have known since I was four.
She is expecting this month and I wanted to make something that would keep for years and not be outgrown. Why oh why can't babies stay tiny forever?
I loved the idea of making a wall hanging, that could also double up as a mobile for the baby to play with. I knew that I would have to add something to the rainbow base and couldn't decide between a sun, mountains or clouds.
After much debate, I followed this free crochet pattern from Hooking Dreams to make these beautiful rounded cloud shapes. To make the rainbow, I very simply wrapped some yarn around some rope – while keeping it tight and secured with some glue. The key to this is to make sure your tension is even and that you keep pushing the loops down so they are nice and squashed, this will create a nice fuller looking effect.
What could I improve? This was my first time making something like this, now that I've finished there are definitely some improvements I could make.
Use wire in the rainbow to hold the shape together: In the middle green row, I wished I had placed some wire next to the rope and wrapped the yarn around both. This would have helped to create a better shape.
Sew the pieces of rainbow together as you go: I think the rainbow would also have been neater if I was sewing the pieces together as I went. Instead, I sew all six strands at once and you can see some bumps and inconsistencies.
Make sure you have enough wool: the experienced crocheter may notice that I have had to use two different types of white wool for the clouds. I was being stubborn and didn't want to undo my work, but lesson learnt: always overestimate your wool!
MATERIALS:
Rope approx. 1.5 metres
Yarn of desired colours to wrap around rope
PVA non-toxic glue
Thread and needle to attach the rainbow
White or Cream Yarn approx. 150g to make both clouds
Stuffing
3mm hook to make the clouds
INSTRUCTIONS: ***UK TERMS***
CLOUDS X2 = 3mm hook
Follow this pattern from HookingDreams. Unfortunately, the site is now down but luckily, I had a printed copy of this cloud. There are probably easier clouds to make, but I really loved the curves in this pattern, and I think it was well worth the effort.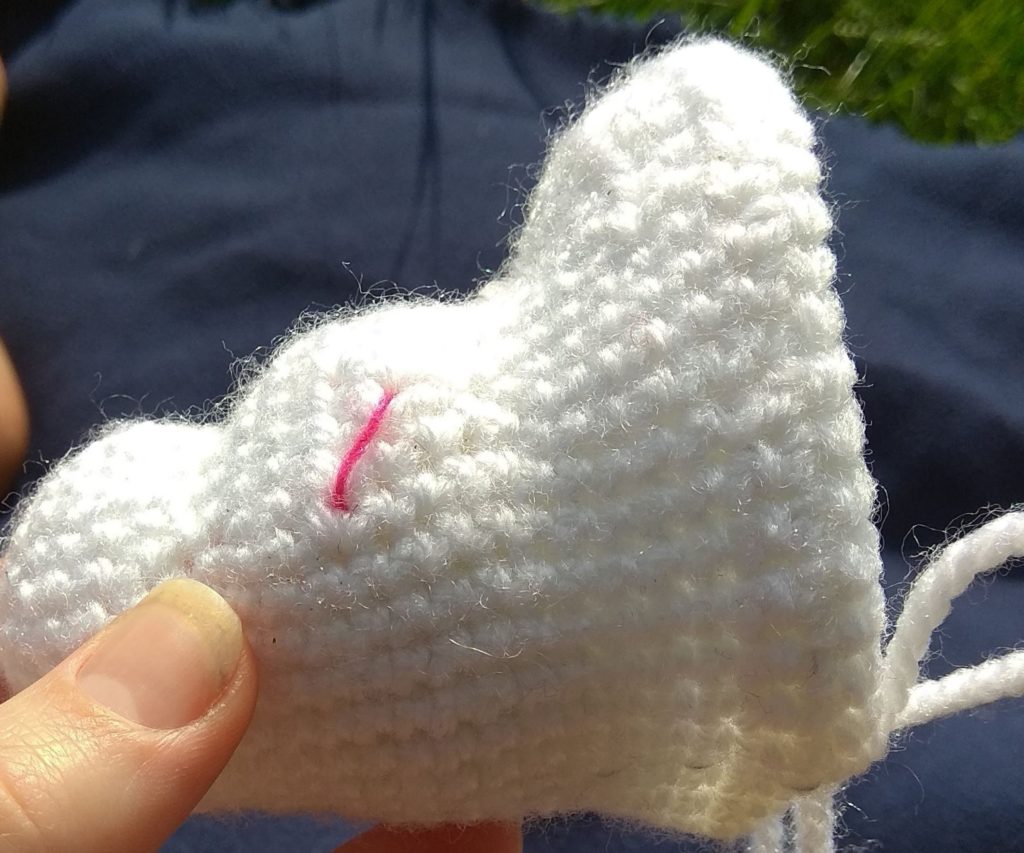 RAINBOW:
Select your colours and let's get wrapping. Start with a short bit of rope, approximately 5" (12cm) and glue down your yarn, wrapping it evenly around the rope. After every 10ish wrap arounds, push the yarn down a touch so it's nice a bulky and looks neat.
Use a needle and thread to attach each rainbow strand together. Even though this one didn't have any wire inside, it still held its shape, even after them being bent.
Now that you have your clouds and rainbow shape you just need to sew them together and attach a loop at the back so that it can hang off the wall.