Reading Time:
4
minutes
This decorative Totoro crochet wall hanging is the perfect addition for any Ghibli lover's home
Making this Totoro Crochet Wall Hanging was so much fun, but creating anything relating to Ghibli is always such a treat. Of course, I made some beloved Totoro crochet keychains and brooches, however, I was looking for an excuse to try something a bit different.
Gifts
One of my best friends is pregnant, due in October, so I'd been thinking about what to gift her. Recently, I made the Rainbow and Cloud Wall Hanging which was a massive success, but I didn't want to make the same thing again. After some good old Pinterest searching, I fell in love with all the different styles of crochet wall hangings, especially flat, applique style ones used to decorate kids' bedrooms. So, I decided to incorporate Totoro into a crochet wall hanging.
In short, the Totoro Crochet Wall Hanging consists of the following …
Firstly, the crochet backing is made with HTR (UK TERMS) and this base is attached to the bamboo/stick
Secondly, to attach on top we will make a Totoro applique, along with the branch and some flowers
Thirdly, I added the letter D, as my friend is naming her little treasure Daphne
Lastly, a long iCord or Chain to allow the hanging to hang
Totoro O' Totoro
Totoro's applique was adapted from a French pattern I found via Maillalenvers, because I thought this version did the best job at replicating Totoro's true form. Unfortunately, the pattern was only provided in French, so it took me a while to translate into English.
In summary, it starts by creating Totoro's belly with white yarn. Then changing colours to grey, you continue working the body around the white belly. Next, to create the head and ears, you work back and forth on the top of the applique. This part was the most confusing but as long as you place the ears at equal widths they will look great.
My version alters slightly from the original French pattern, though. During the last few rounds I stopped increasing and created 2 extra rounds with 72ST. Meanwhile, this accidentally created a 3D -like effect, which I actually love! "We don't make mistakes, just happy little accidents", as the wonderful Bob Ross says.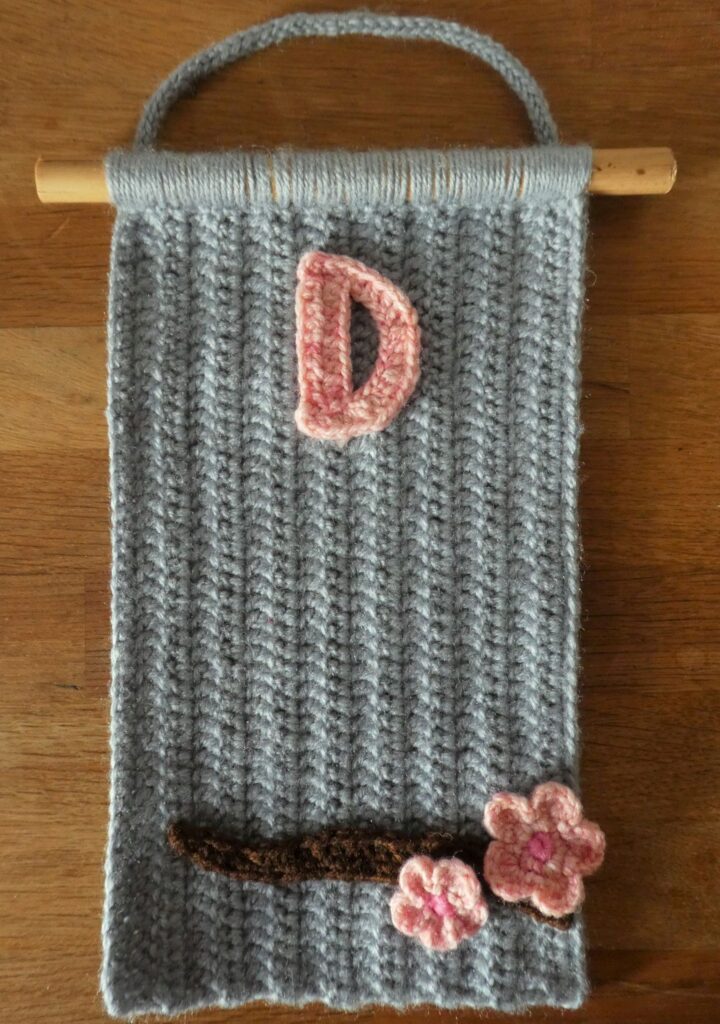 INSTRUCTIONS: ***UK TERMS***
MATERIALS:
Approx. 200g Drops cotton worsted yarn; grey / light blue / white / brown / pink / black
4mm & 3mm hook
Safety eyes
Stuffing
Bamboo, stick
Needle and thread to make nose/mouth and weave ends
BACKING = 4mm hook
| | | |
| --- | --- | --- |
| | CH51 | |
| 1 | From second chain on hook 50HTR | = 50 ST |
| 2 | 17 REPEAT | = 50 ST |
| | At the end of your last row, fasten off, tie in the ends | |
TOTORO BODY = 3mm hook worked in closed rounds
NOTES: In this case, the CHAIN to begin and SLIP STITCH to close are NOT counted. So, your first stitch in each row, will be in the same stitch as the previous slip stitch.
Centre body in WHITE
| | | |
| --- | --- | --- |
| | Magic Ring | |
| 1 | CH1, 12TR, SL ST to close | = 12 ST |
| 2 | CH1, 12INC, SL ST to close | = 24 ST |
| 3 | CH1, 1TR, (INC, 1TR) X11, INC, SL ST to close | = 36 ST |
| 4 | CH1, INC, (2TR, INC) X11, 2TR, SL ST to close | = 48 ST |
| 5 | CH1, 2TR, (INC, 3TR) X11, INC, 1TR, SL ST to close | = 60 ST |
| | Fasten off, tie in the ends | |
Now, the white centre belly section is finished.
In order to keep symmetry, align the centre seam of the white belly pointing upwards. However, this isn't essential, but it will give a nice finished look to Totoro.
Following this, you attach the next colour, grey from that centre seam and continue crocheting around.
Outter body in GREY
| | | |
| --- | --- | --- |
| 6 | CH1, (INC, 4TR) X12, SL ST to close | = 72 ST |
| 7 | 72HTR | = 72 ST |
| 8 | 72HTR | = 72 ST |
| | NOW MAKE THE HEAD | |
| 9 | (INC, 5DC) X2, INC, 4DC, SLIP STITCH, TURN | = 21 ST |
| 10 | SKIP SLIP STITCH, DEC, 16DC, DEC, SLIP STITCH, TURN | = 19 ST |
| 11 | SKIP SLIP STITCH, 14DC, SLIP STITCH, TURN | = 15 ST |
| 12 | SKIP SLIP STITCH, 12DC, SLIP STITCH, TURN | = 13 ST |
| 13 | SKIP SLIP STITCH, 10DC, SLIP STITCH, TURN | = 11 ST |
| 14 | SKIP SLIP STITCH, 8DC, SLIP STITCH, TURN | = 9 ST |
| | NOW MAKE THE EARS | |
| | CH6, 1DC in second chain from hook, 1HTR, 1TR, 1DTR, 1HTR in the next stitch on the head, 8 SLIP STITCH, CH6, 1DC in the second chain from hook, 1HTR, 1TR, 1DTR, 1HTR in the next stitch on the head | |
| | Optional – now go around the body with SLIP STITCHES | |
| | Fasten off, tie in the ends | |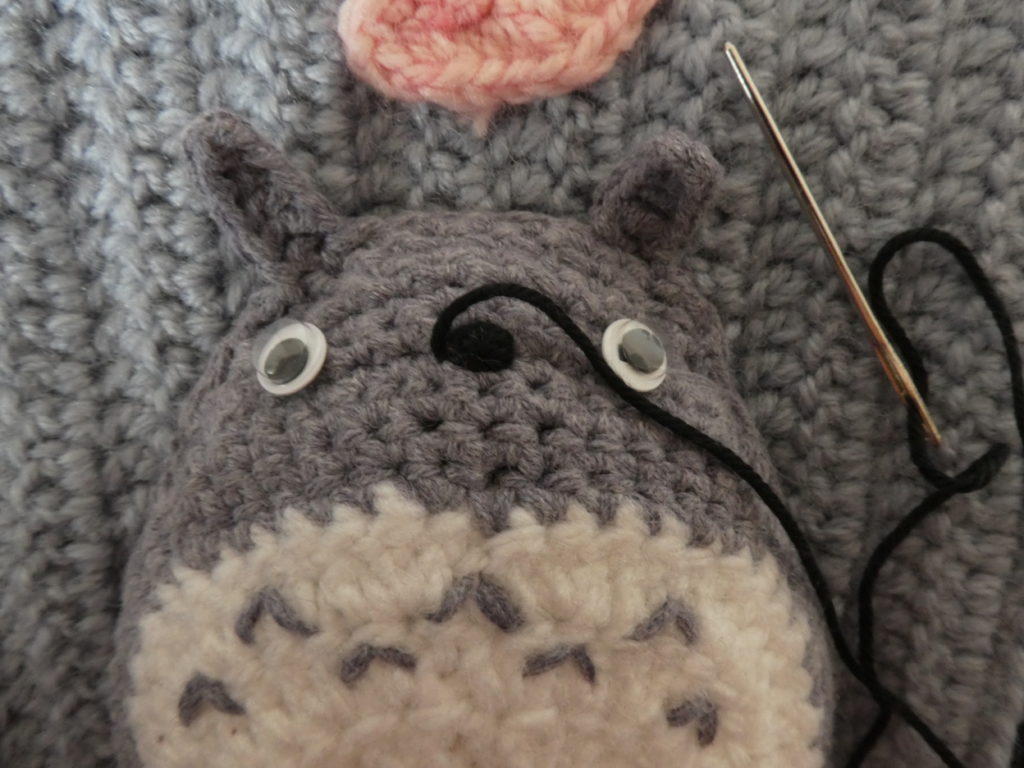 Finishing touches
Now, finish off Totoro by sewing on the nose and attach some safety eyes. And, sew some V shapes with grey onto the belly.
TREE BRANCH – swap to BROWN
| | | |
| --- | --- | --- |
| | CH23 | |
| 1 | In 4th CH on hook – 4DTRB, 8TRB, INC.HTB, 4HTR, 2DC, fasten off | = 21ST |
| | | |
| | | |
CHERRY BLOSSOMS – follow this from Pretty Ideas
When you have finished crocheting all your pieces you can assemble them by attaching with yarn (or thread) and the needle.
Firstly, sew down the tree branch, Totoro, the cherry blossoms, making sure they are secure.
Then, use a needle and the grey yarn to attach the base around your stick looping the yarn around your stick and through the very top line of stitches. (To clarify, the more times you do this, the more secure it will be.)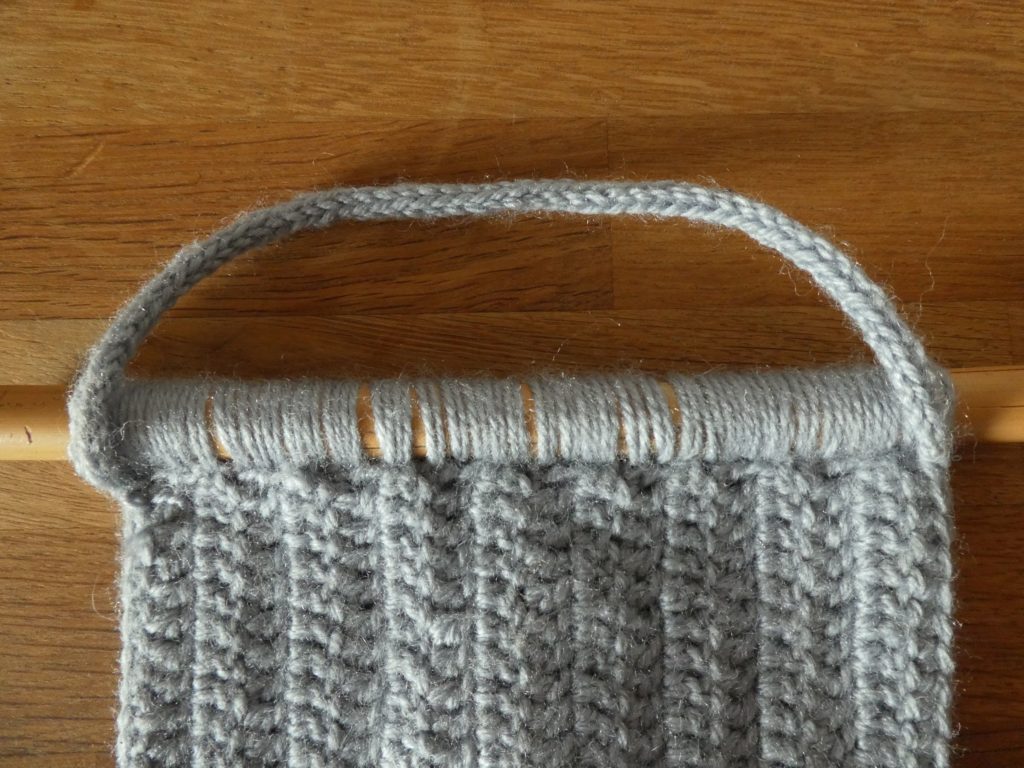 At last, the base is attached!
Finally, create a long chain or iCord if you would like it to look neater and thicker. When you get to the desired length, approx 15 cm, attach it the opposite side – now your Totoro crochet wall hanging can be put anywhere.
You'll notice that I attached some tassels and black beads to the bottom of each side, this is totally optional but I thought it was a nice finishing touch.
I was so incredibly happy with this project. Not only was it fun, but, without a doubt, I think this is one of my most favourite creations … ever!
I believe the best projects are ones kept simple, the pink and grey combination of this Totoro Crochet Wall Hanging works so well.