Reading Time:
3
minutes
Bring nature indoors with this cute mini fern planter, a gorgeous plant pattern that will last forever with no need to water
🌿🌿🌿🌿🌿🌿🌿🌿🌿🌿🌿🌿🌿🌿🌿🌿🌿🌿🌿🌿🌿🌿🌿🌿🌿🌿🌿
Getting outside is one of life's nourishingly simple but overlooked pleasures. Nothing puts you in a better mood like going for a walk, somewhere with lots of nature and fresh air.
I'm lucky and surrounded by beautiful woods and canal walks that you can easily get lost in for days. But the weather's not been great recently, and I've been cooped up more than normal. I notice my mood change when I've not been outside. I'm cranky and irritable. To help alleviate some of this tension, keeping my hands busy is key. I craved making something related to nature, something green. I stumbled across this super cute pattern by Attic24 for a fern and instantly fell in love.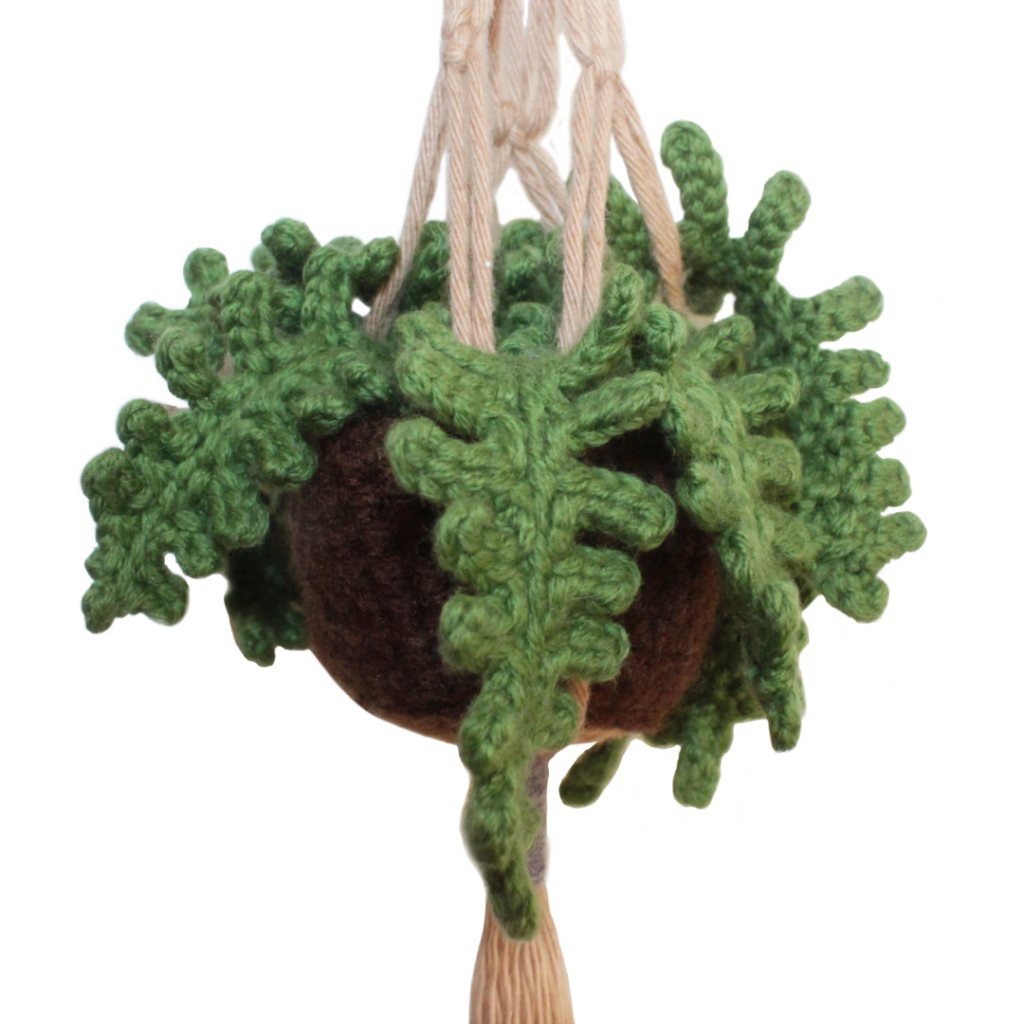 The pattern uses only chain and slip stitches. You can make loads in no time as there are easy to follow instructions with plenty of pictures.
The version I made of this fern comes two sizes. To make the fern crochet planter to look full, I reduced the number of chains to make a smaller version that will go on the top. Make 6 ferns in the original size, then three smaller ferns.
Arrange the ferns and stack them on top of each other, with the smallest ferns on top.
Not essential, but to ensure the fern stays in place, sew a few buttons to the bottom which will fit in the planter.
The fern will go into a mini plant pot which was done in 12 continuous rounds. Keeping the fern plant in a pot alone didn't seem to do it justice though. I always wanted to try out macramé, so decided this would be the perfect project to incorporate the two and as it's a mini version, would be a great introduction.
I used three different types of knot for the planter which are basic enough for a beginner to try. I was so happy with the result of this mini crochet fern planter. I think the combination and colours created a very chic and pretty new accessory for my home.
INSTRUCTIONS: ***UK TERMS***
MATERIALS:
Brown yarn for planter, green yarn for fern, colour of your choice for the macramé planter
3mm
Buttons
Hoop
Needle and thread
PLANT POT = 3mm hook
NOTES: Worked in continuous rounds, using brown yarn.
| | | |
| --- | --- | --- |
| | Magic ring | |
| 1 | 6DC | = 6 ST |
| 2 | 6INC | = 12 ST |
| 3 | (DC, INC) X6 | = 18 ST |
| 4 | (2DC, INC) X6 | = 24 ST |
| 5 | BLO 24DC | = 24 ST |
| 6 | (4DC, INC) X4 | = 32 ST |
| 7 | 32DC | = 32 ST |
| 8 | 32DC | = 32 ST |
| 9 | 32DC | = 32 ST |
| 10 | 32DC | = 32 ST |
| 11 | 32DC | = 32 ST |
| 12 | 32DC | = 32 ST |
| | Fasten off, tie in the ends | |
FERN LEAVES = 3mm hook
MACRAME HANGER
This was made with a combination of three different knots. Start with six strands of yarn, each measuring 1.5 metres. Fold them in half, through your hoop (I used an old keychain hoop) so that leaves you with 12 strands to work with. Using some thread, secure the stands close to the hoop by wrapping thread tightly around the base, repeat this many times and then sew the end underneath.
The first knot is a CROWN KNOW, repeat this process until you have 1 inch. Here is a really helpful and easy to follow video from Elsie Goodwin's YouTube channel.
Then I split the strands into three groups of four and made a HALF SQUARE KNOT SPIRAL for 2 inches.
Next a space is needed for the planter to sit in. Leaving a 1-inch gap, combine 2 strands from each of the previous spirals and make three SQUARE KNOTS. Leave another 1-inch gap underneath and create another three SQUARE KNOTS, alternating the knots so they aren't aligned.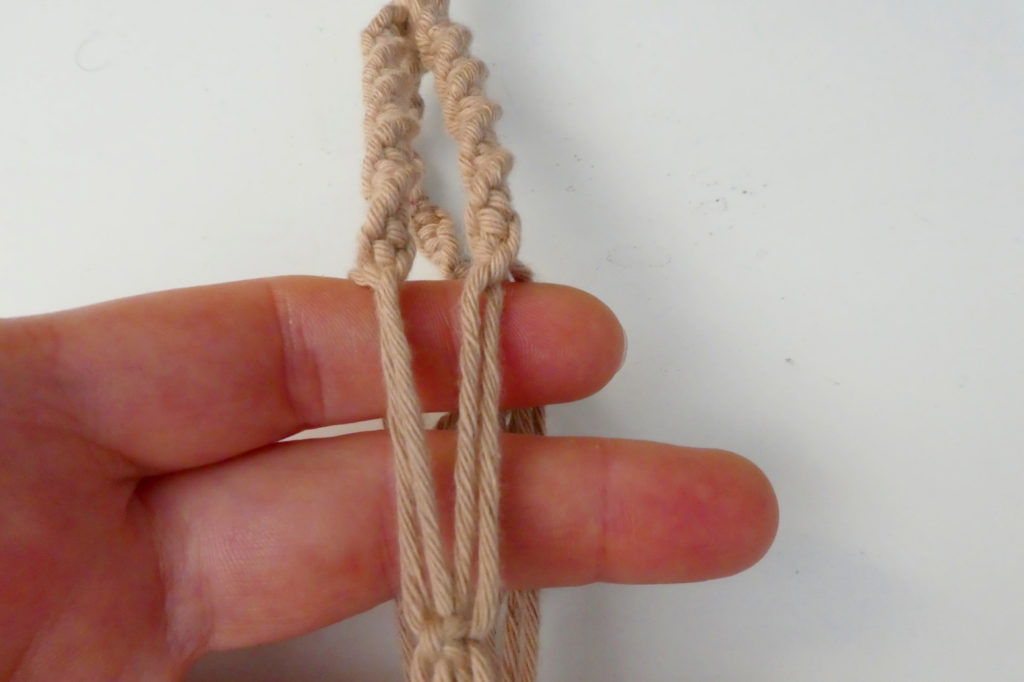 Now you can secure strands together, use some yarn to wrap around the strands, nice a tightly sewing in your ends underneath.
Lastly, slightly dampen the ends of your macrame, and use a comb to brush out the ends. Let this dry and you'll have nice fluffy ends to finish.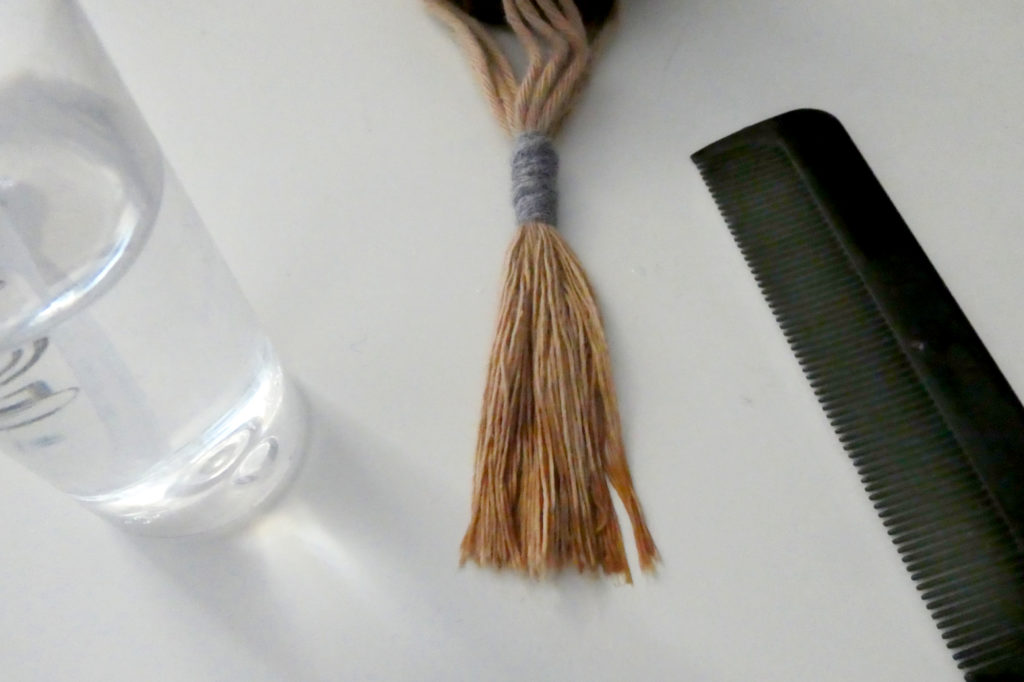 And there you have it. A super a super adorable and cute mini crochet fern planter.