Reading Time:
2
minutes
Learn how to make this quick crochet diamond bath mat. Using the tapestry method and Hooked Zpagetti yarn creating this gorgeous tessellation
Are you on the hunt for a fun and easy crochet project? Read on to find out how to make this modern and quick crochet diamond bath mat.
I have always wanted to tackle crocheting a rug. But, the thought of making anything bigger than a bath mat is a little overwhelming. So let me introduce this crochet diamond bath mat. It builds up surprisingly quick, using Half Treble Crochet and three colours.
Recently, the fantastic LoveCrafts site has had some spectacular sales. I ran out of T-shirts to repurpose (see Shoulder Bag Free Pattern) and saw that Hooked Zpagetti yarn was on sale. For only £5.71 per 800g it was a bargain that I could not refuse. As a result, I may have gone overboard and ended up buying 8 different skeins 🧶🤪🧶
I thought this project would be an excellent way to test out the yarn.
Altogether, the yarn is great and definitely fantastic value at this price. However, one major issue I found was variations in width which can create gaps.
Because of this I had to change which colours I initially planned to use and ended up creating my bath mat with coral, dark green and grey.
Tapestry crochet
Tapestry crochet is so popular because it's so versatile and the patterns you can make are endless. They can be simple or intricate.
I wanted this bath mat to work up quickly so decided to use a Half Treble Crochet. Using Double Crochet would also work with this pattern and would probably result in a much neater pattern – just remember to crochet extra rows – but who doesn't love a quick building project.
INSTRUCTIONS: ***UK TERMS***
Materials:
1000g Hooked Zpagetti yarn in GREY
400g Hooked Zpagetti yarn in DARK GREEN
400g Hooked Zpagetti yarn in CORAL
12mm hook
Here is the diagram for the pattern.
CHAIN 41 + 1 to begin and follow this chart
For that extra added finish …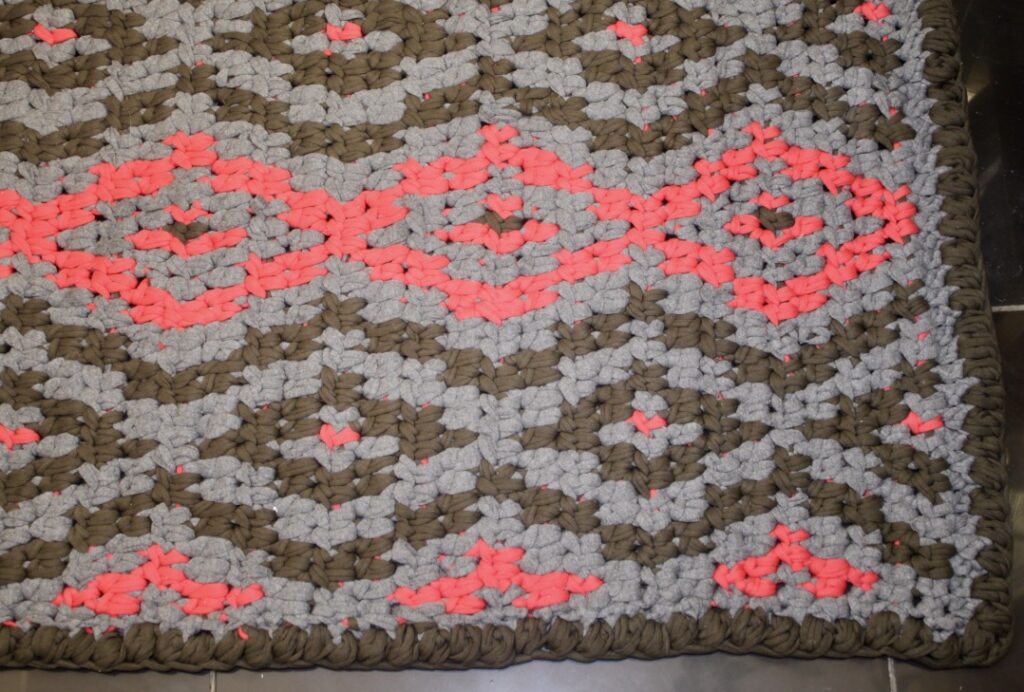 I decieded to add a puff stitch boarder with the green.