Reading Time:
2
minutes
Brighten up any room with this cheery crochet rainbow wall hanging. Made using tapestry crochet and a whole lot of love.
This crochet rainbow wall hanging is a gift for my good friend who has had a baby. I love making these wall hangings as I feel they are a gift that can last a lifetime. They're simple to make but can transform a room.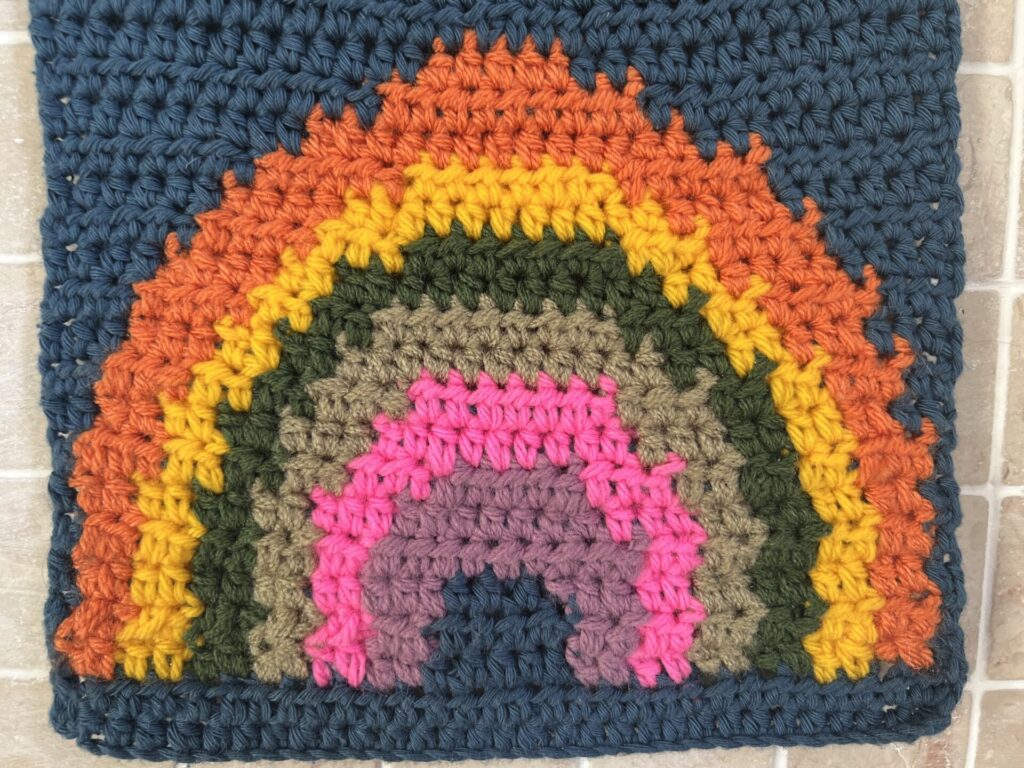 I've been on a yarn buying ban, so have been desperate to use up my stash and this project was perfect. I love Drops Paris yarn, so used some navy blue as the base. Then I used scraps to create the colourful rainbow.
I also created some letters on the wall hanging to spell out baby Ori.
I recently organised a crafty lunch at chat at my office now things are opening and it was so lovely to have a catch up with people. I attached the letters while teaching some friends crochet basics.
Changing colours:
When I made the Monstera Wall Hanging, I used a special technnique to hide the unworked colours. However, with this wall hanging I didn't mind having a messy back as there were so many different colours. You can leave the colour and pick it up again when you reach the row above.
You can see in the pictures below what the back looks like. But, you can neaten this up with a a bit of patience and cut then weave all the ends into the work when you are finished.
INSTRUCTIONS: ***UK TERMS***
MATERIALS:
4mm hook
50g Blue DK yarn & approx 10g for each colour of the rainbow 6 colours in total
Bamboo or stick
Needle to weave ends and attach the hanging to your stick
So, here is the pattern chart, to help you keep track of all the colour changes.
Start with BLUE, 31CH, +1, TURN (this is your foundation row).
Row 1 = 31HTR, +1, TURN.
Row 2 = 31HTR, +1, TURN.
Then start swapping colours from row 3, working up the diagram.