Reading Time:
2
minutes
This crochet halter neck top has been in my pile of WIPs forever.
With quite a lot of projects on the go recently, I have been getting fed up so thought it was time to tackle some old work and clear out something from the pending pile of doom.
I had been experiementing with a new crochet halter neck top pattern that used the waistcoat stitch, but it was taking forever to build up and ended up being too thick. After 3 different attempts with different size hooks I gave up. 😩
Check out the previous striped halter top free pattern for more inspo.
Drumroll please for a nice and simple new crochet halter neck top!
Crochet Halter Neck Top
This free pattern uses HALF TREBLE CROCHET stitches and an alternative way to create a CORD with CHAINS.
I used my all time favourite Drops Paris yarn in black, which is 10 ply / aran / worsted. 50 g = approx 75m with a 5mm hook.
I also used some fabric in the same colour and cut to the same shape and act as backing to avoid any nip slips.
I have provided the instructions for a medium size but this can easily be adjusted to make it the perfect fit.
Measure under the neck line to create the first row of stitches. I am inbetween a UK size 10/12 so my first row was X13 FOUNDATION HALF TREBLE CROCHET = 11cm.
The crochet halter top is worked down from the neck my increasing at each end. You can make this as long or short. The total length of my version was 36cm with 42 rows.
Crochet Halter Neck Straps
Normally, I would use an iCord but I was running out of yarn. Found this helpful video from GratiaProject to make a variation and it is much easier.
Make each strap at least 80cm long as this will be fastened diagonally across the back, starting from the top and going down.
I really like this method as you don't have the straps pulling on the neck so it is much more comfy.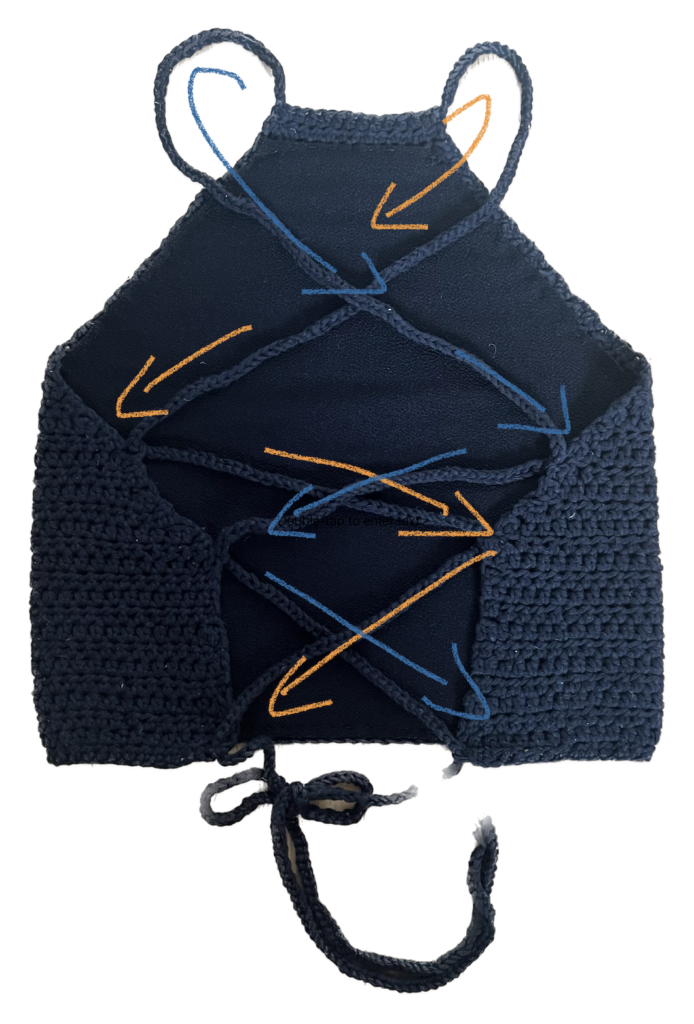 🇬🇧🇬🇧🇬🇧🇬🇧🇬🇧🇬🇧🇬🇧🇬🇧🇬🇧🇬🇧🇬🇧🇬🇧🇬🇧🇬🇧🇬🇧🇬🇧🇬🇧🇬🇧🇬🇧🇬🇧🇬🇧🇬🇧🇬🇧🇬🇧🇬🇧🇬🇧🇬🇧🇬🇧🇬🇧🇬🇧🇬🇧🇬🇧🇬🇧🇬🇧🇬🇧🇬🇧🇬🇧🇬🇧🇬🇧🇬🇧
INSTRUCTIONS: *** UK TERMS ***
MATERIALS:
| | | |
| --- | --- | --- |
| | MAIN BODY = | |
| R.1 | FHTR (or CHAIN14, skip, 13HTR), CH1, TURN | = 13 ST |
| R.2 | REPEAT | = 13 ST |
| R.3 | HTRINC, 11HTR, HTRINC | = 15 ST |
| R.4 | HTRINC, 13HTR, HTRINC | = 17 ST |
| R.5 – 27 | REPEAT (or to however far you want the top to wrap around) | = 63 ST |
| R.28 | 63HTR | = 63 ST |
| R.29 – 42 | REPEAT (or to your desired length) | = 63 ST |
| | FASTEN OFF | |
| | FOR STRAPS = | |
| | Attach yarn at the top corners and work approx. 150 CHAINS or the alternative method shown in above video. Fasten off. | |
| | Work the strap diagonnaly across the back as shown in the above picture. | |
| | FOR BACKING = | |
| | Use similar colour fabric to cut out the same shape and sew to the inside with same colour thread. | |
| | | |
Remember, find me on instagram/sistertwist and tag #sistertwistcrochet with your finished projects.
Happy hooking everyone
💖🧶🍾🧶💖