Reading Time:
4
minutes
The crochet craze has become an undisputed force. Why does keeping your hands busy have such positive effect on your mental health?
I am literally in love with the crochet craze and you should get a little piece of the action too.
I can't imagine a world where creativity didn't exist.
Creating anything – whether with yarn, words, technology or food is part of the human experience. We need it. We live for it. I believe it's what drives us.
Since I began, I have fallen head over heels for the crochet craze. It's a form of creation that has become a major part of my life.
So, what is so special about crochet? There's plenty of good reasons. Not only is it a form of expression, but it also can connect people from all walks of life and that's pretty amazing.
For those not so crafty, what is crochet?
Crochet is a handicraft where yarn is made up into a textured fabric by winding yarn around a hook. Crochet has this illusive charm. Unlike knitting, it can't be replicated on a machine: it must be done by hand and for me, this adds to its appeal. Creating things with our hands is something that is incredibly satisfying and too often dismissed.
The exact origin of crochet is debatable. Other similar craft techniques like weaving, sewing or knitting date back centuries thanks to archaeological finds and documents, but with crochet it's a mystery. It has close ties to lacework – that originate from 17th-century France, while Irish women and children would crochet to help earn money during the potato famine in 1845–50.
LEARNING:
Crochet will always be dear to my heart. My Czech grandma, (or babi) taught me when I visited. She lived in the same tiny bungalow for 60+ years, in rural central Bohemia. It's where my mum grew up and not much has changed. They lived simply. There was no hot water, no fridges.
I don't speak much Czech (hangs head shamefully) but time spent there was always greatly treasured.
One day, my babi found some of her old ivory crochet hooks and grabbed some yarn. She wanted to show me what she could do so we all sat down in the garden to practice.
Three generations, fiddling with yarn that was easily 50+ years old. It surprised me how much I could communicate despite knowing little of the language. We would endlessly count stitches, trying to make a very basic foundation crochet. This was my first experience with crochet and I'll never forget it.
In no time I became fascinated and obsessed. The crochet craze had hold of me.
I started with kawaii amigurumi characters and loved watching the little creatures take form. When I mastered basic amigurumi, I then tackled other crochet projects; clothes, blankets, decorations, accessories, the list goes on and on!
I was officially hooked (pun intended) and the crochet craze had a hold of me.
I'd always looked forward to taking some of my new creations back to the Czech Republic to show my family there, and my Babi was always so shocked and impressed with my projects.
THE MAGIC OF CROCHET:
When my grandma passed away late in 2018, it was only in hindsight that I recognised how crochet positively impacted my life. Not only to connect with my Czech family, but also as a coping mechanism and way to deal with everyday stress and worry.
After you've mastered the basics, crochet becomes a powerful force to help keep calm and gain a different perspective on life. The whole process from selecting your project, yarn colours to actively repeating stitches and waiting patiently for your creation to grow.
All these decision-making acts – combined with some perseverance – result in having a clear sense of purpose that does wonders for your mental health.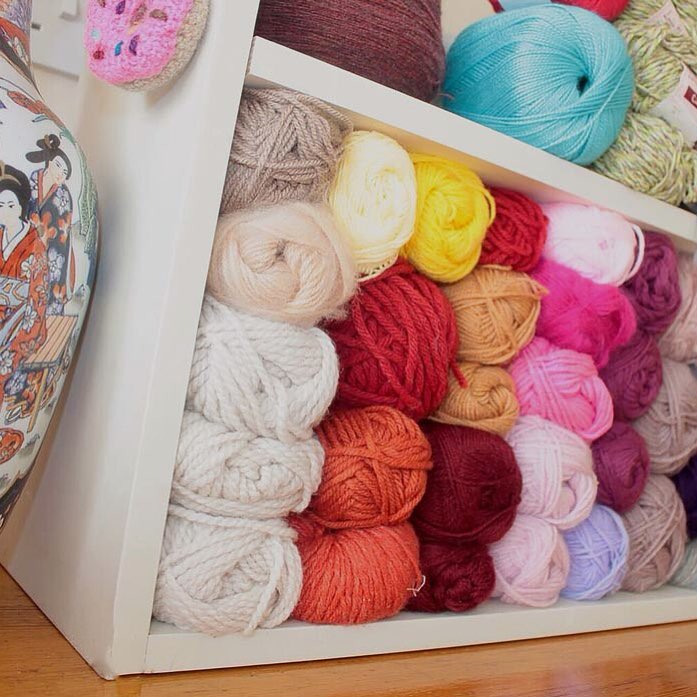 I often find myself zoning out completely with time escaping me. Yes, it can be frustrating at times, when patterns get complicated, but that's part of the learning process.
The crochet craze isn't just for grannies anymore. People of any age, sex, race are joining in and sharing their creations. It has an inherent ability to connect people, no matter where they are from. We create things to share and in this world of instant connectivity, that's easier than ever.
Some crocheters are making incredible creations that blow my mind and I love keeping up to date with them. Not once have I felt envious of a crafter, they always inspire.
One of the main reasons that I wanted to share my creations/projects was to encourage others to get more creative. Creativity is vital; it helps us grow, problem-solve and learn patience. It acts as a fantastic distraction to our wondering thoughts that can often be so damaging.
If you'd like some ideas of things to crochet check out these free patterns.
Now, it doesn't have to strictly be crochet, it can be anything that stimulates your mind, what's important is that you start and give things a go and most importantly, find something that YOU enjoy.
So, to my faithful craft friend, who keeps my fingers busy – thank you for giving me the confidence and ability to look at things from a different perspective.
Thank you for teaching me the value of patience and perseverance and thank you for being a lifeline in keeping me sane and allowing me to express myself.