Reading Time:
2
minutes
Make fluffy toe guards to protect your prescious roller skate babies.
Yep, so I got the roller skate bug … badly. And I knew it wouln't be long until crochet accessories came flooding in. First crochet project for my new skates is goin to be some fluffy toe guards.
Officially addicted, I am unbearable if I haven't skated for a few days. Let us pray for a nice summer!
Roller skating has become so popular over the pandemic and for good reason; it is such a stress release. There are so many different styles and types of skating, too, it really is for anyone who's up for testing their balancing skills – all ages, too.
So, whether you want to bust some dance moves in the roller disco, jump some ramps or simply skate from A to B, make sure they're protected.
Read on to learn how to make protective toe guard covers to keep those skates from getting stratched or skuffed.
This is a great beginner pattern as it's simple and quick. The shape of these fluffy toe guards is universal and should fit most pair of quad roller skates as it should have some stretch.
You can use any type of yarn and corresponding hook. First, I tried making them with black cotton and a 5mm hook.
Then I found this awesome fluffy lime green yarn in my charity shop.
Start making the fluffy toe guards with a MAGIC RING and work the rest using HALF TREBLE CROCHET in rounds. At the last round, leave a large gap by making CHAIN stitches then reatching so the toe stops.
INSTRUCTIONS: ***UK TERMS***
Materials:
50g Hooked Zpagetti yarn in CORAL
5mm hook
| | | |
| --- | --- | --- |
| | Magic ring | |
| 1 | 6HTR | = 6 ST |
| 2 | 6INC | = 12 ST |
| 3 | (2HTR, INC) X4 | = 16 ST |
| 4 | 3HTR, INC, 3HTR, INC, 2HTR, INC, HTR | = 20 ST |
| 5 | 4HTR, INC, 4HTR, INC, 4HTR, INC, 3HTR, INC, HTR | = 24 ST |
| 6 | 5HTR, INC, 6HTR, CH8 (SKIP 4 ST from previous round) 4HTR, INC, 3HTR | |
| | | |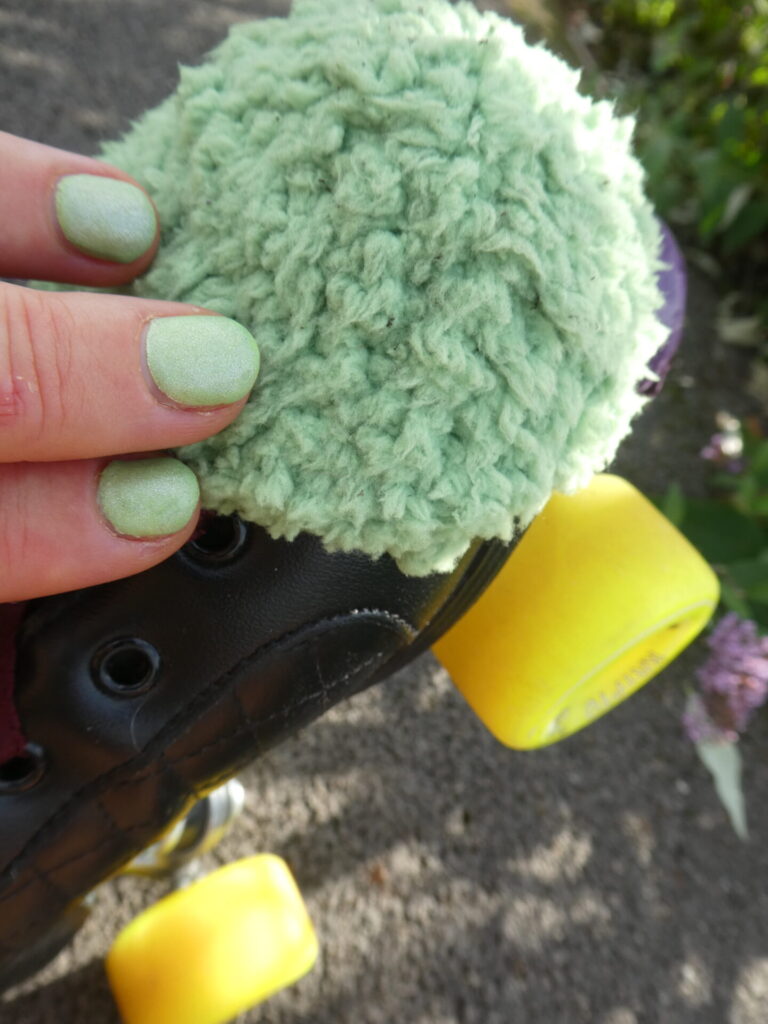 The fluffy toe guards even match my nails 💅💅💅